Hello guys :)
after all this time, all those months of silence and wandering in technological lands, my work and research on my city generator are finally coming together for the next version, to be released in a month at best, two at most. Since I'm very bad at guessing my remaining workload, let's say 2 months.
So, what's the state of the generator ? Well, here is a screenshot of the realtime renderer (work in progress still)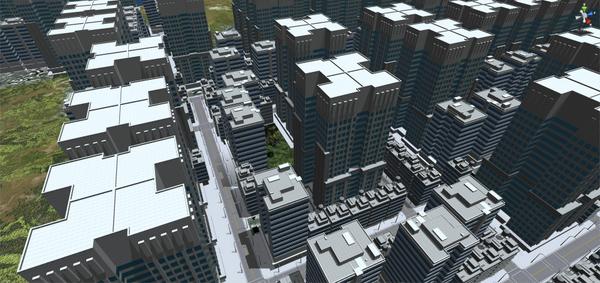 And here is an older image of a Cycles render (WOOHOO :D)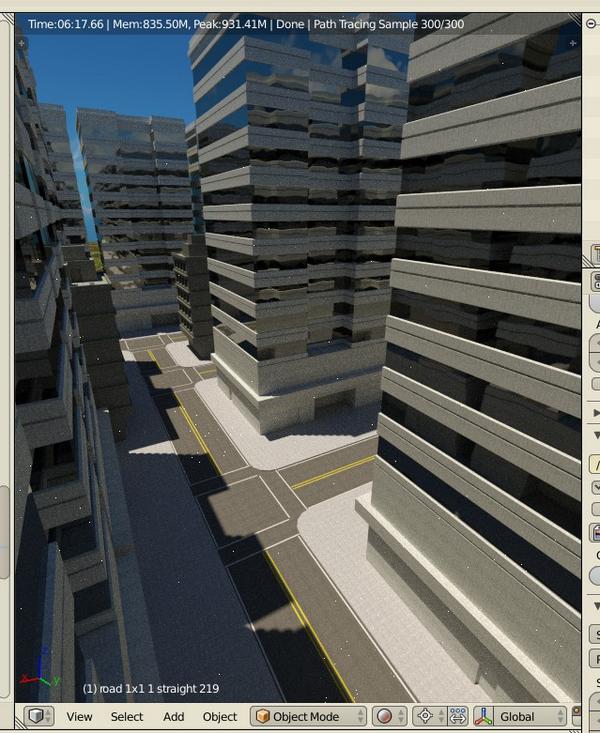 First, I'll change the name of the generator. "Suicidator" was good as long as it was a pet project. Now that I'm bringing it to the next level, a proper name is required. I'll announce it when the time comes. Just know that it'll be much more suitable ;)
The next public version won't be 0.6, but 0.7. This is because 0.6 was such a huge task, I didn't realize I was running straight into a wall, trying to code everything from scratch, especially the 3d renderer, and the asset manager (see this previous post). Instead, I did the wiser choice to step on the broad shoulders of a category of software whose work is just that: realtime 3d rendering and asset management, namely game engines.
The two big popular ones being Unreal Engine (UDK and now UE4) and Unity. Since I had previous experience with Unity, and since it's using C#, a programming language I absolutely love (very similar to Java. Some say it's a messier language than Java, I say it's Java on steroids), I went the Unity route. Now I can concentrate on generating pretty cities.
All the building models are hand-made for now. I'm working on a building generator, but the results aren't up to the quality standard I'm targeting. That means purely random buildings will be for a later version. For now, the free version will have a collection of finely crafted pre-made buildings, and the paid version will have even more of them, for a more varied-looking city.
Notice the buildings are correctly placed, no more ugly overlapping. All the materials work in BOTH Blender Internal AND Cycles, WOOHOO :D. So you'll just choose the renderer you prefer. More rendering engines could be supported in the future, if there is enough interest. I'm thinking about LuxRender especially, since their integration with Blender is pretty good. Notice also how you can now zoom down to the street level. This is a huge step forward, compared to previous versions, where the cities looked kind of good only from a far distance.
For the (temporary) bad news: version 0.7 doesn't support population maps and height maps, all the streets are axis-aligned (that means no more curved streets) and the night version of cities is disabled.
All these features will be restored back in future versions. I think it's best for you guys to have fewer features, but with better quality, ease of use, and support. This is why I invested so much time and money to bring you the best automatic cities possible for Blender, at an affordable price. Right now, I concentrate on usability first, and visual quality second. I'll integrate more features properly later, keeping my two priorities in mind.
That's it guys! I hope you're as excited as I am for the coming version 0.7. I remind you that I post on my Twitter account almost daily about my progress (those screenshots above are from Twitter). See you very soon.